Collaboration is key between the College of Business and CSET
From the November issue of GCU Magazine
Photos by Ralph Freso
Ask students why they chose Grand Canyon University, and they'll tell you that when they first stepped into the snazzy Esports Arena, with its high-end gaming computers, they were in.
Or they'll say it was the sheer pandemonium of the basketball games that got them here, hook, line and sinker.
But if you ask senior computer science major Talbert Herndon why he left the comforts of Waukegan, Illinois, for GCU, he has a different story:
"When I took a Discover GCU trip, I saw this building, and I was like, 'THIS is the place I want to be,'" Herndon said from Canyon Ventures, where the clattering and tinkering of innovation is palpable, and where business startups like his get their start before they're launched into the world.
"I heard the ecosystem was booming as far as entrepreneurship," he said of GCU.
Add to that the University's computer science degree program with a business entrepreneurship emphasis, and Herndon was in, too.
And he isn't the only entrepreneurially minded College of Science, Engineering and Technology (CSET) student who has leveraged every opportunity in his own college and in the Colangelo College of Business (CCOB).
The integration of entrepreneurship into CSET — and the strong collaboration between those two colleges — hasn't come by happenstance.
It's by design.
When President Brian Mueller and recently retired Provost Dr. Hank Radda tasked Dr. Mike Mobley, Executive Director of the Center for Innovation in Research and Teaching, with the creation of CSET, they agreed entrepreneurship would be one of its core principles.
How could it not be?
Mobley himself is a rare combination of scientist and businessman, the chemist having helmed product-development divisions at Procter & Gamble for more than two decades.
He immediately sought out Tim Kelley, the business college's Chair of Entrepreneurship, who has his own companies and brought years of experience in the construction business to the table.
"From the very beginning, we wanted a marriage between business and engineering," said Kelley. The thought was, "We don't want to have a world where entrepreneurs are out there selling things that can't be built or engineers are building things that nobody wants."
So what if you brought together engineering students, who have the brilliant technical skills but may lack market knowledge, and the business students, who lack those core technical skills but are "more than happy to go out and talk to the customer and ask all the questions"?
Together on a team, "You can build products that have value to society," Kelley said.
In CSET's early days, that meant bringing students together at the Lopes Lab, a onetime maker space open to any student who wanted to learn how to use machines and prototype products.
"I tried to kick it off with a 3D printer that I stuck into a glass box," Kelley said, smiling. "But really, when they built the Engineering Building, that's where we were able to have these maker-space labs."
It was in these maker spaces where that high-tech entrepreneurial mindset saw its first success with electric skateboard company Lectric Longboards, launched by then-business students Levi Conlow and Nathan Cooper. It has since evolved into Lectric eBikes, one of the fastest-growing electric bike companies in the country.
Lux Longboards, an elite longboard company founded by mechanical engineering alumnus Weston Smith, followed. The Canyon Ventures company recently expanded into CNC manufacturing.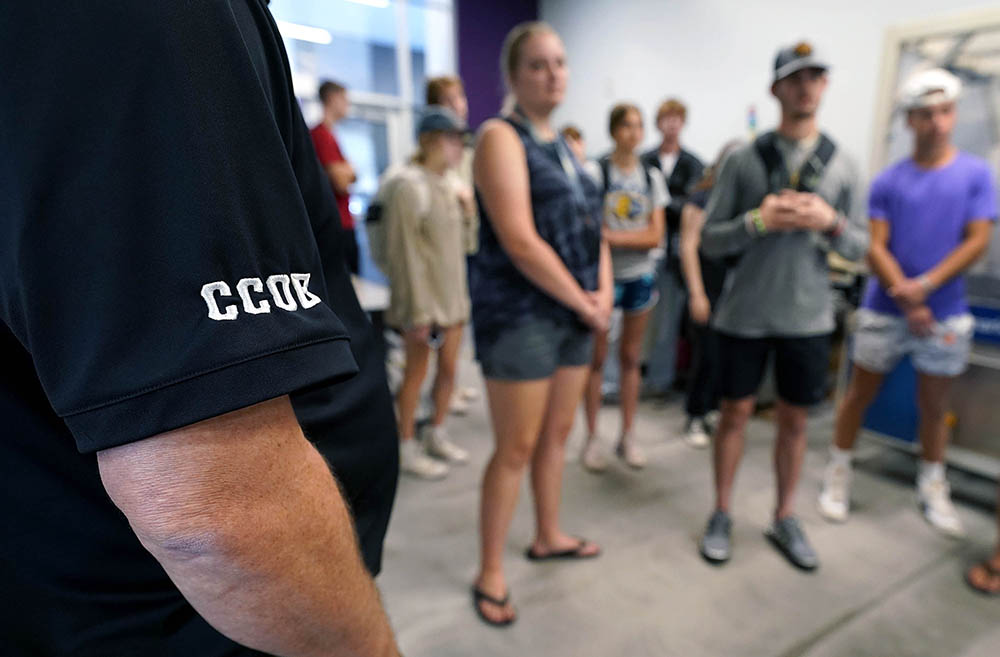 "Some of our first skateboard companies and watch companies and all kinds of crazy things got their start there," Kelley said. "The TEDx people were printing their signs. They just came in and were happy to team up with the engineers and make prototypes.
"And then it grew with the much larger labs the engineering college built"— labs where CSET Engineering Laboratory Director John Berkheimer gets a firsthand look at student-innovated businesses.
"The last one was a guy figuring out a way to put trackers on skateboards," said Berkheimer, who leads tours of the engineering labs for business college students every semester and was getting ready to lead a group of 80 of them.
Kelley and Berkheimer encourage them to train on the machines, find an engineering student to pair up with and use the lab to build their business prototypes.
It isn't the only collaboration encouragement they get.
CCOB professors imbedded in the science, engineering and technology college also dole out plenty of encouragement in the core CSET class created to foster entrepreneurship among its students.
Engineering students in their sophomore year take Engineering Innovation & Lab (ESG 210), which teaches the basics of product development and marketing.
"It's teaching the engineering students the basics of innovation – how to develop something new. It teaches them to improve the human condition," said new CCOB entrepreneurship professor Michael Lang, the faculty bridge between the two colleges. He teaches not just in the business college but in engineering, much like Kelley did before him in CSET's first four years.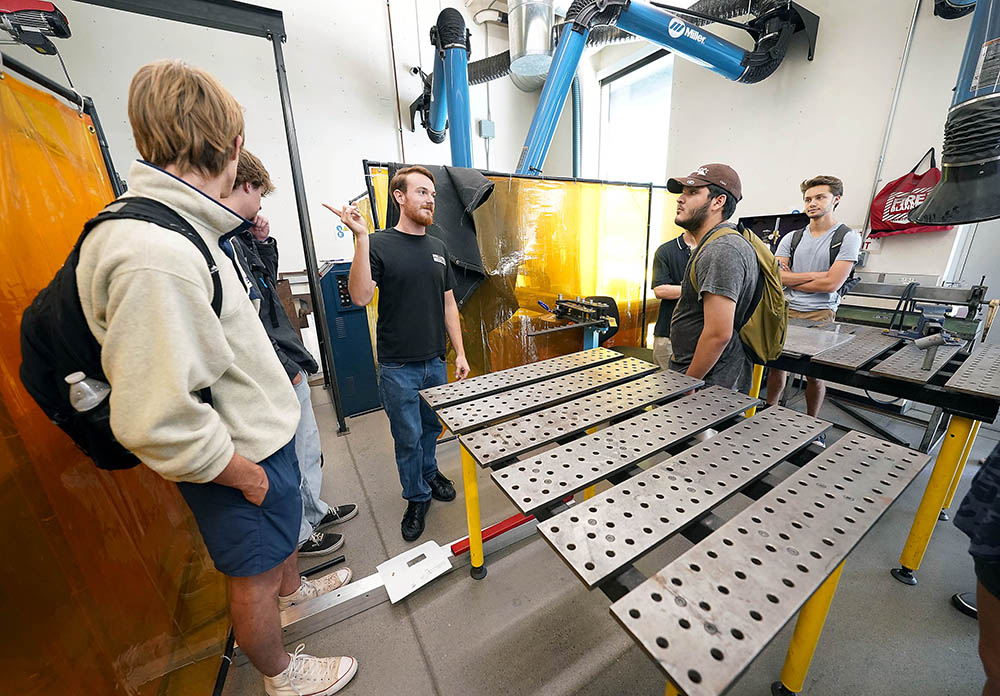 "How do we do that?" Lang asked of fostering that spirit of entrepreneurial innovation. "Well, you have to identify somebody's problem, figure out a better solution to it, and then we teach the mechanics of how to start from that point and bring a product to market. It's the whole process of innovation."
And it's a process that, for the first time this semester, includes a board game development class for entrepreneurship majors taught by biomedical engineering professor and entrepreneurship champion Dr. Jeff La Belle, who owns a board game company. Of course, the class isn't really about board games.
"They're building products," La Belle said of students in the class.
Business students will innovate and build those products alongside engineering students as CCOB ramps up its efforts in the entrepreneurial tech sphere. The business college just added two emphases to its Bachelor of Science degree in Entrepreneurial Studies — one in technology management and the other in engineering management.
Part of the required coursework for those entrepreneurial/ engineering management students is that same Engineering Innovation & Lab course CSET's engineering students take. Throughout their course walk, those business students will be paired with engineering majors.
"It starts there as they begin to do projects together," Kelley said. "Imagine them building products together … and then it ties up again where the business students assist those engineers in their capstone class."
It's the kind of consolidation the colleges have been working toward since CSET opened its doors.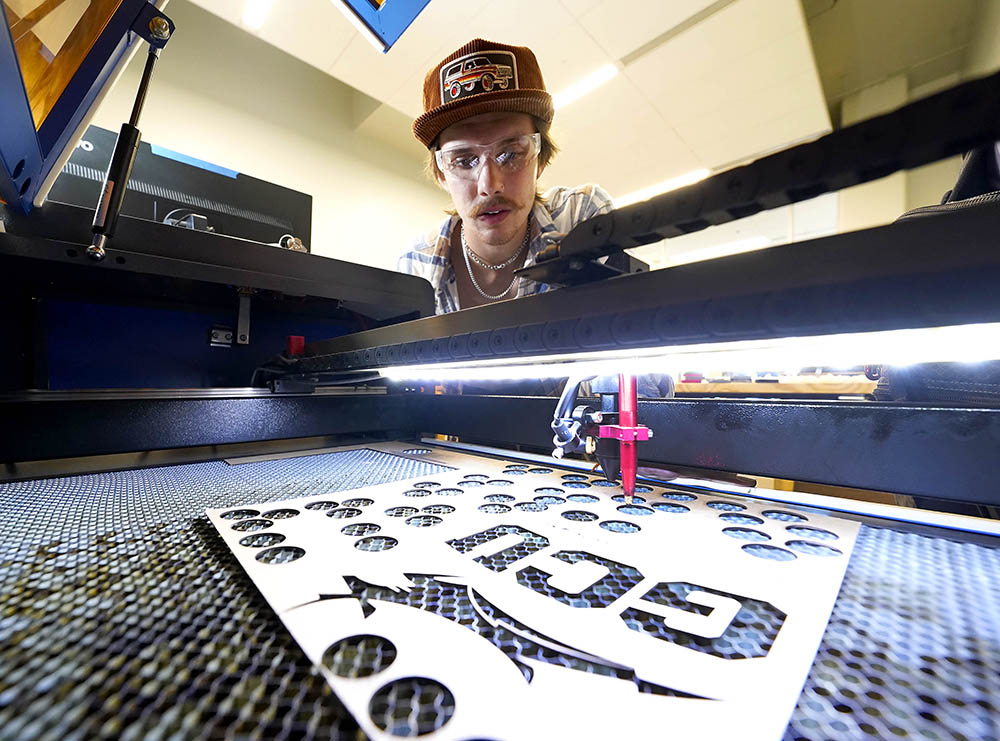 With CSET having accomplished its goal of achieving accreditation for many of its new programs, "Now I think there's room where our degree programs align with theirs," Kelley said, "and we can hopefully get a tighter integration."
Integration that doesn't stop in the classroom.
As Lang puts it, "Tim has developed this rich entrepreneurship ecosystem" that spans from CCOB to CSET.
That ecosystem includes the IDEA Club, where any student on campus can brainstorm business ideas and then pitch them to the Canyon Challenge entrepreneurial competition to win a cash prize for their startup.
"We get lots of CSET students," said Lang, who, along with Kelley, doesn't miss a chance to encourage his students to take advantage of all those gingerly placed entrepreneurship resources.
They're resources Talbert Herndon hasn't taken for granted. Herndon, named recently to the Phoenix Business Journal's "Inno Under 25" list recognizing young innovators, founded FoodCourt, an under-development artificial intelligence platform that predicts what restaurant dishes you might like.
Also, the Canyon Challenge finalist — he has placed in two of the competitions — is developing Noterly, a study platform that uses artificial intelligence to generate flash cards. He was accepted into a program at social enterprise incubator Seed Spot, for which Kelley is a mentor and speaker.
And, of course, Herndon has embraced business incubator Canyon Ventures, where you can find him most days developing his startups and embracing mentorship advice from the center's director, Robert Vera.
It's the place that got him here and keeps him here — hook, line and sinker.
Related content:
GCU News: La Belle Labs: From robots to insulin sensors
GCU News: Lux Longboards rolls into manufacturing
GCU News/GCU Magazine: Joyous: What makes GCU so happy
GCU News/GCU Magazine: New Learning Lounge is room with a lot to do
https://news.gcu.edu/colangelo-college-of-business/engineering-a-strong-entrepreneurial-spirit/