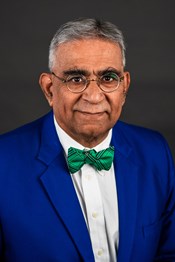 HUNTINGTON, W.Va. – Two individuals at the Marshall University Joan C. Edwards School of Medicine have been tapped to lead the school's continuing medical education division and efforts around sponsored programs and research integrity.
Mohammed Ranavaya, M.D., J.D., professor and chief of occupational and disability medicine, has been named associate dean of continuing medical education (CME). CME is a requirement for clinical faculty, residents and fellows and is an essential component of medical student development. Ranavaya will provide executive oversight for CME curriculum improvement, development and implementation and work to maintain the standards set forth by the Accreditation Council for Continuing Medical Education.
Ranavaya joined the Joan C. Edwards School of Medicine in the department of family and community health in 2000. He is board certified in occupational and preventive medicine and has long served on the school's advisory committee for CME. Ranavaya earned his medical degree from Dow Medical College in Pakistan. He completed his internship at Marshall University, followed by a residency in occupational medicine at West Virginia University. He holds fellowship at the Royal College of Physicians and is also a fellow of Faculty of Occupational Medicine in Dublin, Ireland.
J.T. Schneider, M.B.A., has been named director of sponsored programs and research integrity. He will coordinate activities associated with grants and contracts accounting for Marshall Health and the School of Medicine and work to ensure a compliant research environment throughout both organizations. Schneider will work alongside faculty and staff to grow the school's sponsored programs portfolio and ensure a high level of integrity and effectiveness in its research endeavors.
Schneider joined Marshall Health as director of extramural funding in 2017 and prior to that held positions as grants officer and major grants liaison for the Marshall University Research Corporation. Schneider holds a Bachelor of Business Administration in Finance and a Master of Business Administration, both from Marshall University.
###
Media Contact: Michele McKnight, Marshall Health/Schools of Medicine & Pharmacy, 304-691-1713
---
Date Posted: Monday, November 14, 2022
https://jcesom.marshall.edu/news/musom-news/ranavaya-schneider-named-to-new-leadership-roles/